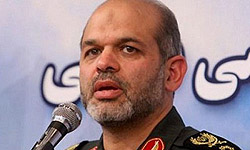 Iran's Defense Minister
Brigadier General Ahmad Vahidi stressed Tehran's strong support for unity in the Muslim community, and cautioned that enemies are exercising various plots to stir rift among Muslim nations.
Addressing participants in the first Quranic competition of the Islamic Armed Forces, Vahidi said, "There are abundant commonalities among Muslims but the enemies of Islam who have many differences internally are trying to work out unity amongst themselves and create sectarian and ethnic rifts among Muslims. This is happening while unity is the essence of Muslims and this (difference and disparity) is a problem that should be treated in the Islamic world."
"Unity in the Islamic world and non-stop campaign against the Zionist regime (of Israel) and the arrogant powers is among the principled policies of the Islamic Republic of Iran."
He added that Iran's military capabilities are at the service of all Islamic states since Iran considers Muslim countries as part of a "united Ummah (community)".
"Whatever we have in military capabilities, it all belongs to Islamic countries."
In similar remarks on Thursday, Iranian President Mahmoud Ahmadinejad said unity and solidarity among Muslim countries is much needed for their standing against those states which seek to sow discord among them.
Ahmadinejad underlined that the world of Islam needed "unity more than ever".
He stressed that raising the issue of Shiite-Sunni disputes is aimed at sowing discord among Muslims, reiterating the need for strengthening solidarity among world Muslims.
"All disputes over ethnic, factional and tribal issues were caused by the Devil," Ahmadinejad said.
River

to

Sea
Uprooted Palestinian
The views expressed in this article are the sole responsibility of the author and do not necessarily reflect those of this Blog!