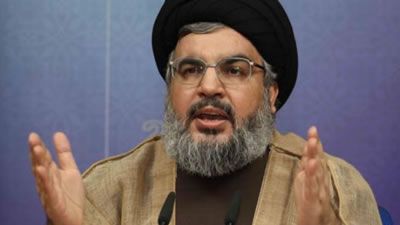 Hezbollah Secretary-General Seyyed Hassan Nasrallah says the Lebanese resistance movement will defend the country against any possible attack by Israel.

"I warn Israelis, resistance will not be silent in case of aggression," Nasrallah said Saturday during a speech marking the anniversary of martyred Hezbollah figures.

Nasrallah denied speculation that Hezbollah has become weak and said the resistance movement is prepared more than ever.

"Lebanon's resistance movement is fully prepared and ready," he added.

Elsewhere in his remarks, the Hezbollah secretary-general also stressed that resistance is the only choice for Palestinians in their struggle against Israeli occupation.

"Israel is the greatest danger for Palestine and the region," Nasrallah added.

He said Hezbollah would continue to support Palestinians in order for them to achieve their rights.

The Israeli military frequently carries out airstrikes and other attacks on the Gaza Strip, saying actions are being conducted for defensive purposes. However, in violation of international law, disproportionate force is always used and civilians are often killed or injured.

The attacks rage on while Israel keeps up its crippling blockade on Gaza, which it imposed on the enclave in 2007.
Nasrallah's warning comes one week before the Jewish holiday of Purim, which begins this year at sundown on February 23. As I have mentioned before, Purim is traditionally a time when violence and aggression flares in the Middle East
. Both US wars against Iraq
, in 1991 and 2003, were in pivotal synchroneity with the Purim holiday;
the 1994 massacre
of 29 Palestinians carried out by Baruch Goldstein also occurred on Purim; and then one week before Purim in 2010, Benjamin Netanyahu announced that the mosque where the massacre took place would become a Jewish Heritage site—this despite the fact that the mosque is located on Palestinian land in the West Bank town of Hebron. The timing of Netanyahu's announcement—four days before the sixteenth anniversary of the massacre was to be observed—also seemed intended as a provocation. And then when approximately 200 people, on the day of the anniversary, attempted to march down the main street in the town where the mosque is located, they were fired upon by Israeli soldiers using tear gas and percussion grenades.

On Purim of 2011 NATO began its bombardment of Libya.

And finally last year, just one day after the Purim holiday 2012, Israel launched a murderous assault on Gaza that killed at least 21 Palestinians. Here is an excerpt from an article by Ramzy Baroud and posted here at Leftwing-Christian:
Israel
air raids
on Gaza Strip have killed 21 Palestinians over the past three days, Monday, March 12, 2012.

The first Israeli missile sped down to its target, scorching the Gaza earth and everything in between. Palestinians collected the body parts of two new martyrs, while Israeli media celebrated the demise of two terrorists.

Zuhair Qasis was the head of the Popular Resistance Committee. He was killed alongside a Palestinian prisoner from Nablus, who had recently been freed and deported to Gaza.

Then, another set of missiles rained down, this time taking Obeid al-Ghirbali and Muhammad Harara.

Then a third, and a forth, and so on. The death count began on March 9 and escalated through the day. The Hamas government urged the international community to take action. Factions vowed to retaliate.

In these situations, Western media is usually clueless or complicit. Sometimes it's both. The Israeli army was cited readily by many media outlets without challenge.

The first round of attacks was justified based on a claim that Qasis was involved in the planning of an attack that killed seven Israelis last year. The Israel army did not even bother to upgrade that claim - which had already resulted in the killing and wounding of many Palestinians. Even Israeli media had drawn the conclusion that the attack then originated from Egypt, and no Palestinian was involved.

Al Jazeera reported that some of the victims were decapitated, a familiar scene in most of Israel's unforgiving atrocities.

Expectedly, Palestinians fired back. "The national resistance brigades, the DFLP's armed wing, the Al-Aqsa brigades, and the armed wing of the PRC, the An-Nasser Salah Ad-Din brigades, have all claimed responsibility for rocket fire," reported Maan news agency.

The incessant Israeli provocations would not have been enough to end the months-long truce. Palestinians know that Israeli provocations are often, if not always, politically motivated. This time however, the people killed were leaders in al-Muqawama, the local resistance parties. Neither Hamas' might nor diplomacy could persuade Gaza's many factions to hold their fire. Israel knows this fact more than any other party. This is why it sent such unmistakably bloody messages. Israel needed Palestinians to respond, and urgently so.

But why did Israel decide to ignite trouble again?
To answer the question, one needs to make a quick stop in Washington. Israeli Prime Minister Benjamin Netanyahu had recently tried to articulate a case for war against Iran there. Unlike the successful effort to isolate, strike and invade Iraq in 2003, the Iran war campaign is not going according to plan.
My, what interesting times we are living in…A theocratic political machine with 1
st
world death-delivering technology calling itself 'the most moral army on the planet' going hogwild against 1.5 million 3
rd
worlders in what can accurately be described as the world's largest private hunting preserve, where neither escape nor self-defense is a possibility.

And to think, prime time entertainment used to be innocent, defenseless people being fed to hungry lions. How far we have come…

And make no mistake about it—the recent bloodbath in Gaza was all about Purim. It always is. Like a full moon coinciding with all sorts of dark, violent and irrational behavior, every time this yearly festival of death comes 'round, Israel goes on a killing spree of some sort in giving real-life significance to her annual celebration of anti-Gentile revenge.

Sometimes the toga parties thrown in Queen Esther's honor are BIG, like the Zionist-engineered destruction of Iraq…and then, at other times, these Purim-inspired bloodbaths are—numerically speaking—'minor,' such as Baruch Goldstein's machine-gunning to death almost 40 Muslims as they knelt down and prayed.

Either way however, the golden rule at this time of year is that someone has to die in a very dramatic and spectacular manner. Like some addict who simply cannot function till he gets his fix, it—Purimspiel–has to be pure, uncut, industrial-strength ritual murder in order for our Torah addicts to calm their nerves, get their shakes under control and feel 'normal' again, whatever the hell such a thing can mean in the Jewish sense.
The Purim holiday, for those who may not be aware, celebrates the foiling of a plot against Jews in Persia, and the subsequent murder of 75,000 Gentiles, as related in the Old Testament book of Esther. It seems to be a time when Jews indulge in their love of vengeance (over real or perceived wrongs), and perhaps we are already beginning to see a bit of "Purim-inspired" violence in association with this year's holiday. All of the following comes from the past 24 hours:
River
to
Sea
Uprooted Palestinian
The views expressed in this article are the sole responsibility of the author and do not necessarily reflect those of this Blog!