A Saudi friend asked me yesterday: When Ghazi Kanaan used to impose his orders on Lebanese officials, did he at least let them claim that they were the ones who came up with the idea? This is how Walid Jumblatt claims he brought Tammam Salam to the post of prime minister.
Outgoing prime minister Najib Mikati, on the other hand, has a long explanation for what pushed him to resign. Mikati had hoped for that President Michel Suleiman would hold on to him as a partner in running the country. He was even ready to entertain Suleiman's wishes for a bigger piece of the government.

Jumblatt went to sleep with the nomination key around his neck. He understood the magnitude of recent economic and international transformations. However, he thought he could re-nominate Mikati by making a deal with March 8 and convincing the Saudis of a governmental formula that would allow March 14 to join the government.

The accord between Suleiman, Mikati, and Jumblatt was supported – or at least not rejected – by influential Arab and western capitals. They wanted him to carry out a palace coup against Hezbollah and its allies.
They aimed for taming the Resistance and telling it that times have changed. They wanted to entice Speaker of Parliament Nabih Berri with his own space, away from Hezbollah, and give Michel Aoun a choice between "being realistic" or stepping back to the benefit of others.

Many stories and rumors are circulating about those difficult final hours. However, one thing's for sure: it was not part of the Three Musketeers' calculations.

First of all,

Hezbollah surprised Mikati

by not holding on to him as prime minister. To be more precise, they were not ready to pay additional costs by keeping the current government.
Second, the West surprised Mikati by indicating that getting rid of this government has become desirable. They were also not worried about instability and could ask their allies in Lebanon to ease the tensions.
Third, the Saudis surprised Jumblatt by welcoming Mikati's resignation, ending their campaign against him in return.
All of a sudden, they all found themselves in a dark tunnel. It was a constant headache for Michel Suleiman. The March 8 government did not accept his plan for the parliamentary elections and ignored his decision to seclude himself. To top it all off, he was informed of the decision to name Salam as if he was a regular MP.
Mikati discovered that he was quickly pulled out of the race. Last minute developments indicated that only Hezbollah stood by his side and had proposed his return. He was morally compensated by allowing him to announce his withdrawal before Salam's nomination was announced.
However, the "quarrel" will be with Jumblatt, who was late to realize that the margin of maneuver was narrow. His consolation is telling the public that he was the one who brought Salam.
Jumblatt, who is nevertheless frantic for several reasons, did not realize he was tripping over his shadow. It is enough to watch him speak about the Syrian crisis, describing "disengagement" as Mikati's most important achievement, then accusing Hezbollah and groups in the North of violating this position. Then, to remind people of his stature, he sits up, lifts his eyebrows, and calls for the killing of any Druze who supports Bashar al-Assad.
The cost of the uncalculated adventure of the Knights of Wasted Time was to quickly push Lebanon from the sponsorship of Anjar and Awkar, to the patronship of Bandar. God knows if it will stop at this.
Ibrahim al-Amin is editor-in-chief of Al-Akhbar.
This article is an edited translation from the Arabic Edition.
How did Lebanon and Saudi Arabia's power brokers decide on Tammam Salam as the country's next prime minister? Al-Akhbar explains how former prime minister Mikati's calculations failed him and paved the way for Salam's rise.
When former prime minister Fouad Siniora delivered his speech to the massive crowds at the funeral of Wissam al-Hassan, the assassinated intelligence chief, standing next to him was none other than Tammam Salam.
Last night, Siniora and Salam were side-by-side once again, this time at Saad Hariri's downtown mansion. The Arab and international signal had been given to begin negotiations on a new prime minister. With that, MP Salam is now the next prime minister in waiting.
Today is the beginning of a new phase in a path that was plotted months ago. Riyadh had to choose one of two names: Salam or Brigadier General Ashraf Rifi, head of the Internal Security Forces. The latter had been asked two months ago, but he nominated Rafik Hariri's sister and Saida MP Bahia Hariri. She preferred to run for parliament.
In those two months, the situation took a different turn. Rifi was slated for an extension in his position, but fell into the quarrel between Hezbollah and MP Michel Aoun, on one side, and Mikati, on the other.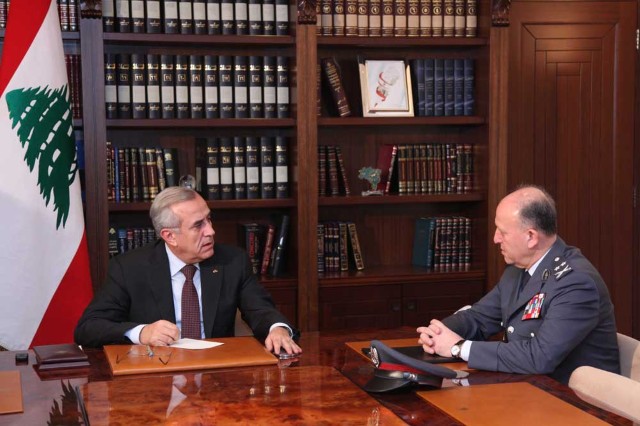 In the last few days, the Saudis proposed Rifi's name to its visitors. The last such visitor was MP Walid Jumblatt, who found it difficult to defend a character who is "confrontational" with Hezbollah.
Like they did with Mikati, however, the Saudis wanted to push Jumblatt into a final and decisive position. Then, they put Salam's name in the negotiation basket.
Rifi was picked by both Hariri and the Saudis for several reasons. His security abilities would be useful to control the situation in Tripoli and Saida. He has good ties with the Arab (read: Saudi) and Western intelligence communities.
Salam is a purely Saudi suggestion. Hariri was unhappy with the choice until the last moment. However, Hariri did not want to give back the clout to someone who had kept a distance from the Future Movement.
But the Saudis spoke and Hariri met the son of former prime minister Saeb Salam. Saudi Prince Bandar Bin Sultan met with Hariri and, all of a sudden, Salam became the opposition candidate. The Saudi ambassador to Lebanon went around Beirut informing all those concerned of Riyadh's position.
Jumblatt chose the easiest of the two names, Salam, as a candidate for consensus, given first by March 14, before March 8 had announced its position.
Mikati's Sin
When Mikati threatened to resign for the "umpteenth" time, there was no one to stop him this time. He committed a serious error in an appropriate time and situation. He thought he was indispensable; everyone will come back to him or Arab and Western capitals will call for his return. But his political calculations failed.
The capitals demonstrated that their support for the current government was weak. They were primarily concerned with the question of Lebanon's stability. As Paris told Mikati on the eve of his visit in February 2012, they will receive the Lebanese prime minister, no matter who he is.
This was repeated yesterday. Mikati is a guarantee for Lebanon's stability only as long as he is head of government. Otherwise, a replacement is ready and all governments will be willing to deal with his successor.
When he resigned,

Mikati could not find anyone to support him.

Hezbollah and Aoun owed him nothing. Only Jumblatt remained at his side until he was accused of politically burning him.
Mikati, the MP from Tripoli, had come to power in alliance with the Future Movement and then turned against them. Hariri has declared a veto on Mikati as prime minister and as MP in the next elections.
This article is an edited translation from the Arabic Edition.
River

to

Sea
Uprooted Palestinian
The views expressed in this article are the sole responsibility of the author and do not necessarily reflect those of this Blog!