Published time: May 02, 2015 03:51
The US consulate in Erbil rejected the visitor visa application of Sister Diana Momeka earlier this week, saying she was "not able to demonstrate that [her] intended activities in the United States would be consistent with the classification of the visa."
However, visas were given to all the other members of the delegation scheduled to speak in Washington about the Islamic State's persecution of minorities of the region, including Shia Muslims and Yazidis. Meetings have been arranged for the group before the House and Senate foreign relations committees, with State Department and USAID officials, and with various NGOs.
Sister Diana is a member of the Dominican Sisterhood of Saint Catherine of Siena, an order that dates its presence in Iraq back to the 13th century and has been an outspoken advocate for the Christians who have been killed and deported by the group calling itself the Islamic State (IS, also known as ISIS/ISIL).
In an op-ed
in National Review Online, Nina Shea of the conservative Hudson Institute's Center for Religious Freedom questioned the State Department's motives for denying Sister Diana a visa. According to Shea, the consular officials denied the application because Sister Diana was an internally displaced person (IDP), and therefore could try seeking asylum in the US.
"Sister Diana had multiple documents vouching for her and the temporary nature of her visit," wrote Shea, from a letter to her prioress attesting "that the nun has been gainfully employed since last February with the Babel College of Philosophy and Theology in Erbil." There are also letters from her sponsors, the Institute for Global Engagement and former Congressman Frank Wolf's (R-Va.) 21st Century Wilberforce Initiative.
"For good measure, she also had a letter of endorsement for her visit from Representative Anna Eshoo" (D-Calif.), who co-chairs the congressional Caucus on Religious Minorities in the Middle East, Shea added.
Yet the consular officials "either thought that they were all in on a scheme by the nun or that Sister Diana was plotting to deceive her well-placed friends and supporters, as well as the US government,"Shea wrote.
"We were shocked and disappointed when we found out,"
Elyse Anderson of the 21st Century Wilberforce Initiative told the
Washington Times
.
Other conservative outlets, such as
Breitbart
and
WND
, have picked up on the plight of Sister Diana, pointing out she was the only Christian in the delegation and the only member to be denied a visa. They have questioned the official reasoning of the US consular officials, noting that she was not the only internally displaced person in the delegation and that people who have been displaced by the Islamic State's terror – such as Yazidis – have been allowed to visit the US before.
"It is beyond ironic," said Anderson, "that Sister Diana, who we had hoped would come to Washington to speak about the worsening plight of Iraq's displaced Christians and other beleaguered religious minorities, was apparently prevented from doing so precisely because she is herself a displaced person."
Read more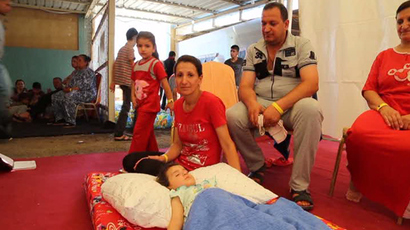 River

to

Sea
Uprooted Palestinian
The views expressed in this article are the sole responsibility of the author and do not necessarily reflect those of the Blog!