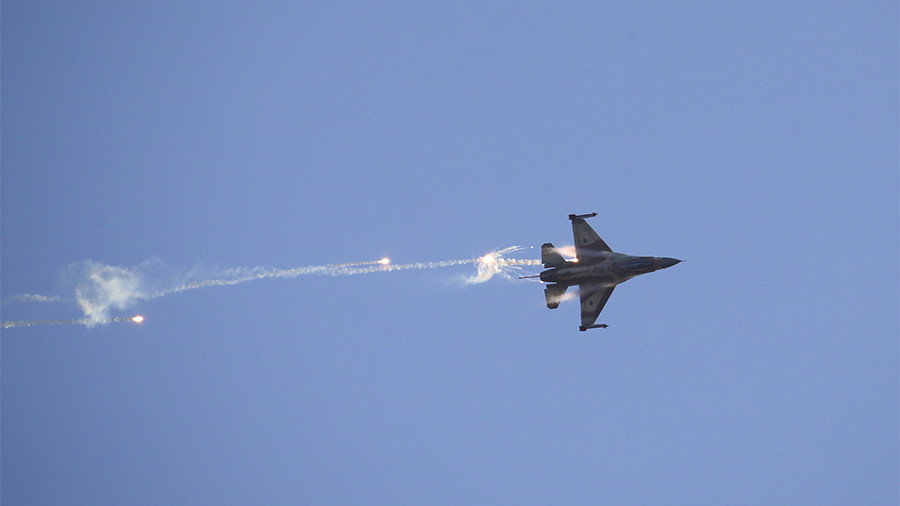 FILE PHOTO: An Israeli Air Force F-16 fighter jet © Baz Ratner / Reuters
A new confrontation with Israeli forces in Syria has been reported by Syrian state TV.
Earlier in the morning, an Israeli cross-border air raid resulted in one fighter jet being shot down by Syrian air defenses.
The "new Israeli act of aggression", as it was described by the Syrian media, took place near capital Damascus. Sounds of explosions presumed to be from Israeli attacks were heard in the Damascus countryside, Syrian state television stations reported.
The Israeli military said its planes struck 12 targets Saturday including three aerial defense batteries and four Iranian targets.
"During the attack, anti-aircraft missiles were fired towards Israel, triggering alarms that were heard in Northern Israel," the military added.
Earlier in the morning, according to Israeli reports, an Iranian drone was intercepted by the IDF after crossing into Israeli airspace. The Israeli military responded by targeting a Syrian military base, where they believed the operator of the drone to be located.
One Israeli F-16 jet was hit by Syrian anti-aircraft fire during the raid and crashed later in Israeli territory. The pilots survived the incident.
Over the years of the Syrian armed conflict, Israel has reportedly launched over 100 attacks into Syrian territory, using fighter jets and missiles to destroy various targets. Israel says it is legitimately defending itself by preventing Hezbollah, a Lebanese paramilitary movement and ally of Damascus, from obtaining advanced weapons from the Syrian government.
River

to

Sea
Uprooted Palestinian
The views expressed in this article are the sole responsibility of the author and do not necessarily reflect those of the Blog!