"Israel's" Mossad was accused of murdering the head of the Scientific Research and Studies Center in Masyaf, Aziz Azbar.
The director of the center, known by its French acronym 'CERS', was killed in a car bombing incident alongside his driver on Saturday night, Syrian Al-Watan newspaper reported Saturday night.
The paper underscored that the Mossad, was suspected of carrying out the attack. As usual,
"Israeli" officials refused to comment.
The deceased was known for close ties with the Syrian government in general and President Bashar al-Assad in particular.
"Every day in the Middle East there are hundreds of explosions and settling of scores. Every time they try to place the blame on us. So we won't take this too seriously," "Israeli" War Minister Avigdor Lieberman said.
CERS has been the target of two previous airstrikes attributed to the apartheid "Israeli" entity.
According to "Israeli" "Hadashot" news, Azbar was tasked with improving the range and accuracy of the Syrian army's Scud missiles.
Honing in on details, "Hadashot" claimed that the bomb had been planted in the headrest of Azbar's car seat.
August 6, 2018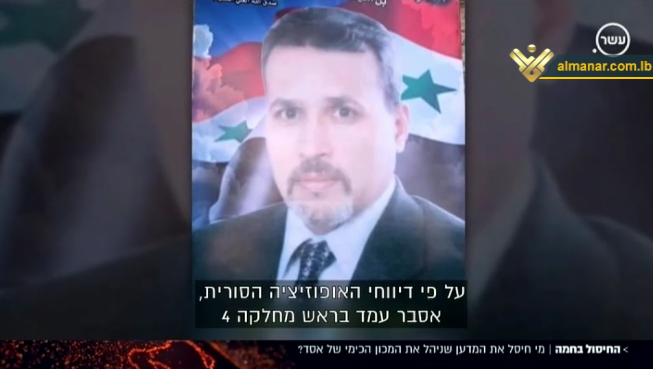 The Israeli media outlets reported Monday that Zionist Mossad intelligence agency is involved in the assassination of the Syrian scientist Aziz Azbar, the head of the Syrian Scientific Research and Studies Center, in the city of Masyaf in Hamah province on Saturday.
The Zionist media reports stressed that this operation comes in the context of the secret war on the axis-of-resistance to prevent it from developing its military capabilities, adding that Mossad has returned to play a direct role in eradicating 'Israel' enemies in several countries.
It is worth noting that Azbar, who holds a Ph.D. in atomic physics and a Ph.D. in liquid rocket fuel from France, was mourned on Monday in his hometown.
Related Videos

Related Articles
River

to

Sea
Uprooted Palestinian
The views expressed in this article are the sole responsibility of the author and do not necessarily reflect those of the Blog!