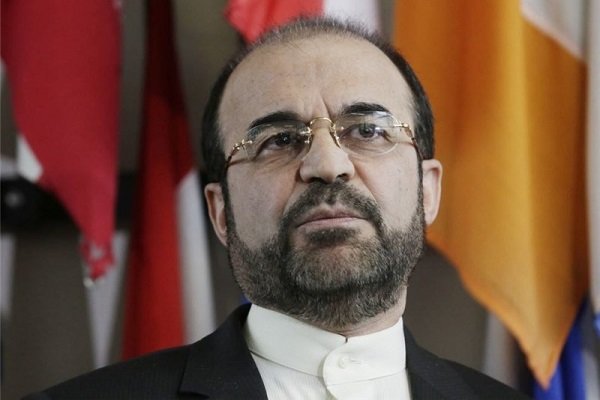 Israel's nuclear arsenal threatens global security
News ID: 4154396 –
Iranian Ambassador to the International Atomic Energy Agency (IAEA) Reza Najafi made the remarks while addressing a meeting of the IAEA's 35-member Board of Governors in Vienna on Friday.
He later slammed the West's double standard approaches on Israel's move to develop its nuclear program in violation of all international regulations.
The Iranian envoy also highlighted the repeated demands of the international community and the IAEA resolutions that the Israeli regime immediately join the NPT and Israel's nuclear installations be subjected to the full monitoring of IAEA safeguards.
"The Zionist regime has unfortunately overlooked legitimate demands of the international community over the past years and continued to advance its military nuclear program in blatant violation of all international regulations and with the blind support of certain countries," the official continued.
He added Israeli military nuclear activities are the main cause of concern among regional nations and the international community and urged the UN nuclear agency to closely and seriously attend to the issue.
Najafi also urged a complete ban on any type of nuclear cooperation with Israel.
"Israel's nuclear scientists' free access to nuclear facilities of some states occurs at a time when nuclear scientists from the NPT countries are assassinated by Israeli-led terrorists in the Middle East."
Israel is estimated to have 200 to 400 nuclear warheads in its arsenal. The regime, however, refuses to either accept or deny having the weapons.
It has also evaded signing the NPT amid staunch endeavor by the United States and other Western states on international levels in favor of its non-commitment to the accord.
Also at the meeting, the Iraqi envoy, representing Arab League member states, in a statement condemning Western support for nuclear capabilities of the Zionist regime who caused failure of the 2015 NPT conference, called for the unconditional adherence of Israel to the NPT and inclusion of all nuclear facilities of Israel under the IAEA safeguards and emphasized that, to this end, the issue of Israel's nuclear capabilities that threaten the region and the world should remain on the agenda of the Agency.
River

to

Sea
Uprooted Palestinian
The views expressed in this article are the sole responsibility of the author and do not necessarily reflect those of the Blog!